Storm Shelters in Moore, OK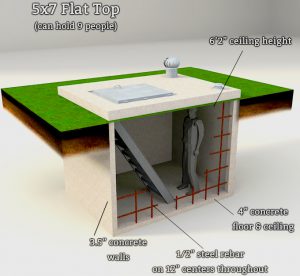 All Red Dirt Storm Shelters in Moore, OK are professionally installed by Oklahoma's most trusted septic company, Red Dirt Septic Systems. Red Dirt Septic has served the Oklahoma City metro, Edmond, Moore, Tulsa, Norman, Lawton, and all over Oklahoma for years. The installation of Red Dirt Storm Shelters in Moore, OK are performed quickly and with minimal disturbance to the surrounding landscape.
The following chart is from the National Weather Service and shows the history of tornadoes in Moore, Oklahoma.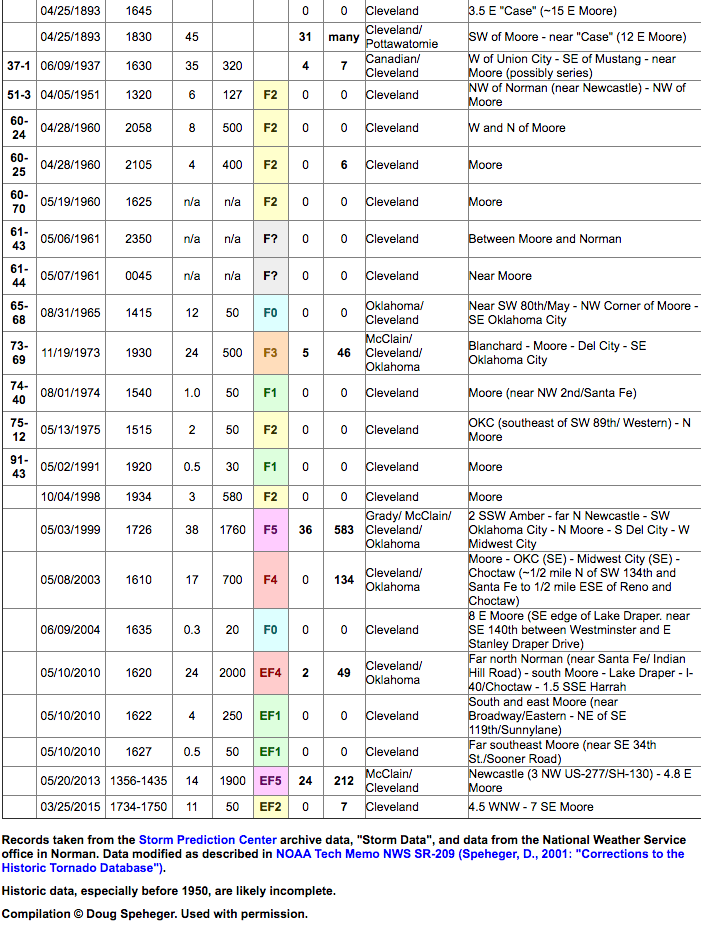 More About Moore Oklahoma From Wiki:
Geography
Moore is located just south of Oklahoma City and north of Norman, in central Oklahoma. According to the United States Census Bureau, the city has a total area of 22.2 square miles (57.4 km2), of which 21.8 square miles (56.5 km2) is land and 0.35 square miles (0.9 km2), or 1.52%, is water.
The city lies in the Sandstone Hills region of Oklahoma, known for hills, blackjack oak, and post oak.
Climate
Moore has a humid subtropical climate with frequent variations in weather during part of the year and consistently hot summers. Prolonged and severe droughts often lead to wildfires and heavy rainfall often leads to flash flooding and flooding. Consistent winds, usually from the south or south-southeast during the summer, help temper the hotter weather. Consistent northerly winds during the winter can intensify cold periods. Severe ice storms and snowstorms happen sporadically during the winter.
The city is located in Tornado Alley and is subject to frequent and severe tornadoes and hailstorms. The Oklahoma City metropolitan area is one of the most tornado-prone major cities in the world.
Damage from tornadoes
Moore has seen ten tornadoes between 1998 and 2015, three of them big enough to claim lives and cause catastrophic damage. The city of Moore was damaged by significant tornadoes on October 4, 1998; May 3, 1999; May 8, 2003; May 10, 2010; and May 20, 2013, with weaker tornadoes striking at other times, notably May 31, 2013 and March 25, 2015. Moore is located in Tornado Alley, a colloquial term for the area of the United States where tornadoes are most frequent. About 20 tornadoes occurred in the immediate vicinity of Moore from 1890 to 2013. The most significant tornadoes to hit Moore occurred in 1999 and 2013.
During the tornado outbreak on May 3, 1999, a tornado hit Moore and nearby areas. The tornado, which was rated an F5 on the Fujita scale, was the most costly tornado in history at the time (not adjusted for changes in inflation and population). The tornado had an approximate recorded wind speed of 301 mph (484 km/h) as sampled by mobile Doppler radar, the highest wind speed ever recorded on Earth. It left a swath of destruction over 1 mile (1.6 km) wide at times, and 38 miles (60 km) long. It killed a total of 36 people in the Oklahoma City metropolitan area. This was the deadliest F5 tornado recorded since the Delhi, Louisiana tornado in 1971 until this mark was eclipsed by several tornadoes in 2011.
On May 20, 2013, parts of Moore and neighboring Newcastle and southern Oklahoma City, were affected by a violent tornado. Classified as EF5, it had estimated wind speeds of 200–210 mph (320–340 km/h), a maximum width of 1.3 miles (2 km), and a path length of 17 miles (30 km). Entire subdivisions were destroyed; the tornado struck Briarwood and Plaza Towers elementary schools in Moore, while school was in session. The Oklahoma Medical Examiner's office reported that 24 people were killed, including 10 children. Over 140 patients, including at least 70 children, were treated at hospitals following the tornado. It was the deadliest U.S. tornado since the Joplin, Missouri tornado that killed 158 people in 2011.
Live Doppler Radar For Moore, Oklahoma