Storm Shelters in Norman, OK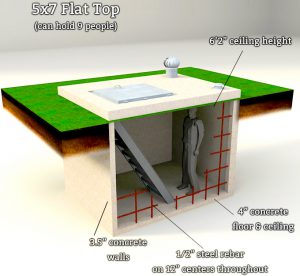 All Red Dirt Storm Shelters in Norman, OK are professionally installed by Oklahoma's most trusted septic company, Red Dirt Septic Systems. Red Dirt Septic has served the Oklahoma City metro, Edmond, Moore, Tulsa, Norman, Lawton, and all over Oklahoma for years. The installation of Red Dirt Storm Shelters in Norman, OK are performed quickly and with minimal disturbance to the surrounding landscape.
The following chart is from the National Weather Service and shows the history of tornadoes in Norman, Oklahoma.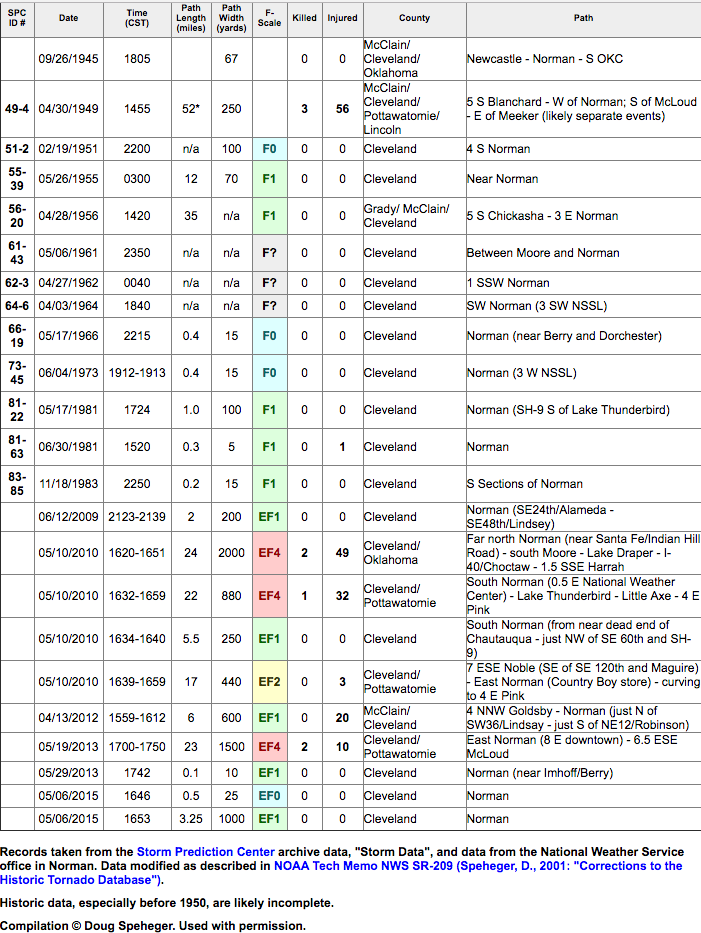 More About Norman Oklahoma From Wiki:
Geography
The U.S. Census Bureau reported Norman's geographical coordinates as 35.240577°N 97.345306°W (35°14'26″N 97°20'43″W). This appears to be the geographical center of the city limits, which include all of Lake Thunderbird. Virtually all of Norman's development is well to the west of this point.
In the Geographic Names Information System of the United States Geological Survey, the city's geographical coordinates are shown as 35.2225668°N 97.4394777°W (35°13'21″N 97°26'22″W). This is a location in downtown Norman.
As of 2010, the city has a total area of 189.42 square miles (490.6 km2), of which 178.77 square miles (463.0 km2) is land and 10.65 square miles (27.6 km2) is water.
The center of this large incorporated area is 20 miles (30 km) from the center of Oklahoma City and, separated primarily by Moore, is in the Oklahoma City metropolitan area.
Topography
Norman and the surrounding areas are mostly flat with an elevation near 1,171 feet (357 m). The terrain in the western section of Norman is prairie, while the eastern section, including the area surrounding Lake Thunderbird, consists of some 6,000 acres (24 km2) of lakes and Cross Timbers forest. The lowest point within city limits is approximately 970 feet (296 m) above sea level (located at 35.20388N, 97.17735W). The highest point is approximately 1,245 feet (379 m) above sea level (located at 35.21266N, 97.39000W).
Norman falls within a temperate, humid subtropical climate region that is identified as "Cfa" class on the Köppen climate classification. On average Norman receives about 38 inches (970 mm) of precipitation per year; May and June are the wettest months. Temperatures average 61 °F (16 °C) for the year. Average daytime highs range from 50 °F (10 °C) in January to nearly 93 °F (34 °C) in August; average lows range from 28 °F (−2 °C) in January to 71 °F (22 °C) in July and August. Summers can be extremely hot, as was evident in the historically-hot summer of 1980, and again in 2011, when temperatures climbed above 100 °F (38 °C) over most days from mid-June through early September (see http://www.nws.noaa.gov/climate/index.php?wfo=oun, look up June, July and August 2011 data). Consistent winds, averaging near 10 mph (16 km/h) and usually from the south to southeast, help to temper hotter weather during the summer and intensify cold periods during the winter.
Norman averages a growing season of 209 days, but plants that can withstand short periods of colder temperatures may have an additional three to six weeks. Winter months tend to be cloudier than those in summer, with the percentage of possible sunshine ranging from an average of about 55% in winter to nearly 80% in summer.
Norman lies within Tornado Alley,the region of the United States where tornadic activity is most frequent. The city has a tornado season lasting from March through June, with over 80% of all reported tornadoes occurring during these months. The Oklahoma City metropolitan area, including Norman, is the most tornado-prone area in the United States. As recently as May 10, 2010, a tornado outbreak occurred in southeastern Norman that resulted in the loss of multiple homes and businesses. On April 13, 2012 Norman was struck by a weak tornado. On May 6, 2015, the northwestern part of Norman was hit by a weak tornado.